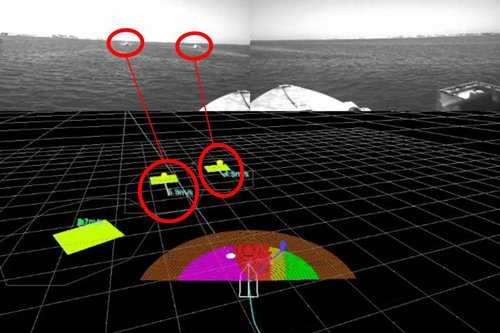 ONR will demonstrate autonomous operations of an Unmanned Sea Surface Vehicle (USSV) for support of Littoral Combat Ship (LCS) operations using JPL autonomy technologies, which includes JPL-developed hybrid control architecture CARACaS (Control Architecture for Robotic Agent Control and Sensing) with low-level control and high-level reasoning capabilities; machine vision technologies for hazard avoidance and object detection; and embedded, real-time operations on an electronic control stack. The objective of this project is to develop and demonstrate advanced behaviors and capabilities for intelligent mission-level autonomous control and long duration operation of a USSV for LCS support. We have demonstrated several capabilities including: SII (Search, Intercept, and Inspect); contact discrimination based on their motion; safe navigation obeying COLREGS with multiple traffic boats; and mission replanning based on hardware fault.
This work is funded by the
Office of Naval Research
.