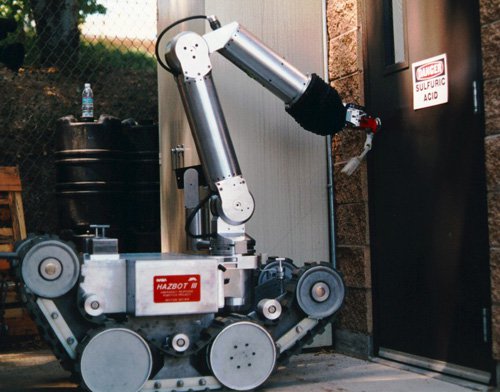 Enabling Safety and HAZMAT personnel to remotely and therefore safely explore dangerous terrestrial environments, particularly those where hazardous materials have been accidently released, is the primary objective of the Ground Emergency Response Vehicle Project. Begun in October 1990, the project has succeeded in prototyping a teleoperated mobile robot used by the JPL Fire Department HAZMAT Team in four simulated reconnaissance missions. The current robot, called HAZBOT III, is shown in the image above. The project has also been very successful in publicizing the use of robotics in HAZMAT as well as establishing ties with US industry and successfully transferring technology.

The use of robotic technology allows people to remotely explore and work in dangerous environments without risk of injury or death. It is therefore understandable that the JPL Fire Department HAZMAT Team and Safety offices have been very supportive of the development of a tool enabling them to remotely explore areas where hazardous materials are involved. The robot can provide vital information on spill location, magnitude, material type and concentration so a well prepared response team can safely enter the site.

This project has been directed at emergency response missions where accidental spill or release of hazardous material must be addressed immediately to protect people located nearby. This is of course important at JPL as well as all NASA centers where a variety of dangerous and toxic materials are used and stored. Other applications include law enforcement, monitoring and remediation of EPA super fund sites, and nuclear plant decommissioning.

The JPL HAZMAT Team members have been an integral part of the project from the beginning and are the end users of this robotic system under development. During the first year of the project two REMOTEC ANDROS Mark V mobile robots were procured as a base to work from rather than trying to develop a system from scratch. Testing and training with the HAZMAT Team led to a list of modifications and requirements to make the robot a useful tool for first entry/reconnaissance of hazardous material incident sites at JPL without risking team personnel.

The last two and a half years have focused on implementing many of these modifications leading to the HAZBOT III system. The main driver in the system redesign is to enable robot operation in potentially combustible atmospheres. This required rebuilding the REMOTEC vehicle from the track drive up to enclose all electrical components in areas which can be positively pressurized. As added protection all solid state electronics and brushless DC motors are used which under normal operations do not electrically arc providing a source of ignition. This capability is extremely important in HAZMAT response since combustible materials are frequently encountered and a priori knowledge as to the presence or absence of combustibles may not be available to the incident commander. Other modifications included the addition of a sophisticated on-board computer system to enable close-loop control of a new stiffer manipulator, incorporation of a chemical gas detector, development of specialized tools for unlocking and opening doors, and enhancement of the operator interface.

The last demonstration mission, carried out in April of 1994, demonstrated the HAZBOT's readiness for field operations. The demonstration required HAZMAT team members to respond to an incident without prior knowledge of the location or incident type. The operator (who had never been inside the building before) was able to use HAZBOT to gain entrance to the building through a locked gate, locate the suspected hazard, and access the situation in less than an hour.

Plans to further improve performace include additional modifications such as the implementation of an RF link replacing the tether and enabling behind closed door operations and more complex mission scenarios. Continued field testing and demonstrations will be done to prove the system and efforts are being made to transfer technology developed in the project back to US industry.

This work was done by Caltech for NASA's Jet Propulsion Laboratory. For further information see "Applying Robotics to HAZMAT," by R. Welch and G. Edmonds, Proceedings of the Forth National Technology Transfer Conference - NASA Technology 2003, Vol. 2, pp 279-287, Anaheim, CA, December 1993.